Many professional models start out by doing promotional modelling – and many others enjoy it so much they decide to make a career of it!
At Models Direct we are approached to find female and male models for all kinds of promotional assignments, ranging from major exhibitions and events to in-store and shopping mall promotions and demonstrations.
To be a great promotional model, you don't have to have done it before, you simply have to be friendly, smiley, confident and approachable.
You have to be proud to represent the brand, product or campaign you will be promoting, and you have to be happy to interact with the general public and chat to passers-by.
So, what else should I know about promotional modelling?
1. It can involve teamwork
Promotional models must have the self-assurance to work on their own; approach members of the public and undertake whatever is required of them. At the same time, however, there is often a team approach to the assignment. They need to be able to work together and support each other. This, of course, can make it great fun….
Some of our promotional models had the opportunity to work with Poundland on a fragrance campaign and had a great time as a modelling team.. (this assignment was pre covid).
2. It can suit people with other talents
You don't have to be a skilled actor or accomplished musician but do tell us about any special talents you have as this can help. Clients like to employ models who are used to stepping out on stage or performing in public. Perhaps you are a singer or dancer? Or perhaps you are someone with sporting or public speaking experience? Just let us know…
3. It can be ideal for those with good memories
Promotional modelling is perfect for anyone who is quick to learn and great at retaining information. Part of your job may well be to explain about a product or present a campaign. Clients look for models who are bright, eager and intrigued about a subject – then ready to make it interesting to someone else!
This is exactly what happened when some of our promotional models took part in a campaign to help the Fertility Partnership find egg donors.
For the event, artist Stuart Semple created an installation using giant balloons.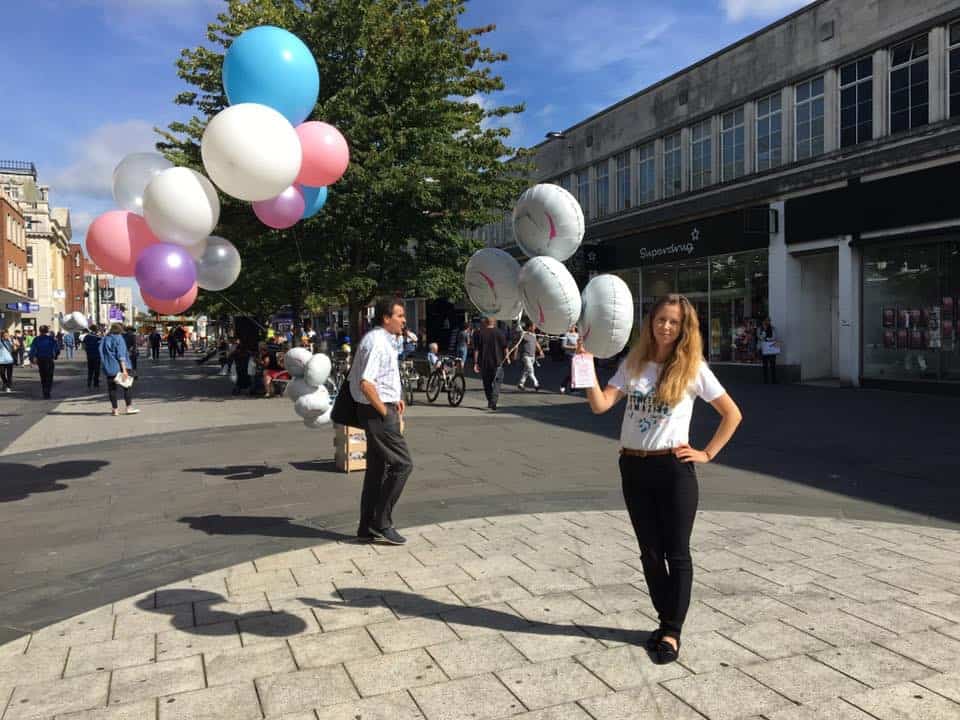 Our models were then asked to give some of these valuable items to the public, in turn asking them to pass them on.
Here is what some of our models had to say:
Aina Sutka:
"When I first received information about my assignment, I was a little bit worried as I didn't know anything about fertility treatment, fertility clinics based here in the UK or elsewhere, let alone anything that is connected with egg donation. There was no reason for my worries, because everything was explained, people that I ended up working with were very interesting and their knowledge was on top, the day flew by, because I was intrigued and in that way it helped a lot with passing the information on to the public. Being a mum myself I loved the idea of helping families that struggle in creating a miracle of their life's. The cause of this assignment was incredibly sincere! It is never too late to try something new. It is never too late to achieve your dreams."
Chloe Smith:
"We were directed to stop passers-by and give them a balloon; this balloon was only one out of 1000 with a Stuart Semple artwork on it and each was worth £350. We would give these to a passer-by and then get them to pass it on, the idea being just like when you donate your eggs, you are giving away something precious and amazing. It was a great experience and will be a good thing for my portfolio."
The opportunities for promotional models are endless with brands looking of new ways to promote their products and get noticed in such a competitive environment. Yes, the retail world is quite different at the minute, but not long from now brands will be looking for the perfect models to push their products like never before….