These models had such a great time on their recent commercial video shoot for Poundland in Harrogate – check out their reviews…
"Today I had my first experience with Models Direct, which involved public interaction advertising new fragrances. The organisation and communication meant that the day ran smoothly, meaning I felt at ease with the demands of the job in hand. I would definitely recommend the company to others with an interest for this type of work and it would be a pleasure to experience work with the company again in the future."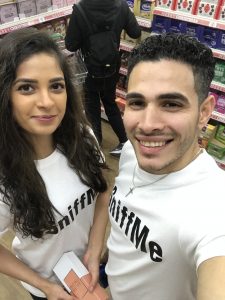 Model Fee's: £100
"Another great day even it was freezing, but we could warm up during the shooting with loads of laughs and talks with the people around. 
Been to Harrogate Mall at the town center for a commercial video and shooting for Poundland introducing new fragrances. 
A huge thanks to Models Direct for the arrangement and the chance. 
For sure I can't forget to say a big thanks for Molly, 
as usual she makes everything easier!" 
"I did a video shoot commercial for Poundland in Harrogate. I've just had a great experience on my second assignment with Models Direct, thank you to Molly for giving me this opportunity. I have enjoyed the experience, the guys made me feel welcome. It was 2 hours but it felt like one. The photographers were very good and the other models were really easy going. I can't wait for my next assignment!!!"
"Recently completed an assignment, it was a commercial and the experience was really great. It was professional yet warm and welcoming. I truly enjoyed it. Looking for more."
"Today I had my first experience with
Models Direct
, which involved public interaction advertising new fragrances. The organisation and communication meant that the day ran smoothly, meaning I felt at ease with the demands of the job in hand. I would definitely recommend the company to others with an interest for this type of work and it would be a pleasure to experience work with the company again in the future."