Assignment highlights of 2020
To be fair, the word "highlights" won't often appear alongside any reference to "2020", but at Models Direct we've had our fair share of success during this difficult year.
The company has thrived amidst the growing threat of COVID, and we're delighted how our models have adapted to continue their promising careers, whether opting for a one-off job or throwing themselves headlong into numerous assignments. Whatever one's situation since March, keeping busy and positive was key to maintaining some sort of normality – and sanity. We're just glad we could keep doing what we do best: placing talented models in exciting jobs with our eminent clients. And long may it continue!
To mark the end of a tough year, we've decided to broadcast some notable modelling achievements. We love all our models, but as limited space dictates we can't honour every single triumph, this piece serves as a celebratory blog to congratulate a select few.
In Strictly Come Dancing style, the votes are in! Grab yourself a glass of champers and join us in toasting some of our distinguished models – individuals, families and even pets!
For "starters", we were thrilled to help out online food delivery company Deliveroo. Our star model, Julian, praised the whole experience. He said;
"My shoot went really well despite the winds and cold weather. The shoot was conducted professionally and the photographer and onsite director were kind and friendly. Great shots were taken and I'm really happy and excited to be working with Models Direct. I'm looking forward to future jobs with them. Thank you to Models Direct for working with me to make this possible."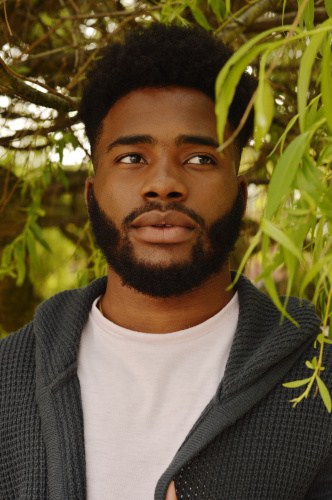 Next up on our celebratory list is adorable pooch Honey-Belle, who scored a sensational assignment modelling for retail giants John Lewis. Honey-Belle was photographed for the company's At Home magazine, instantly transforming her into a canine superstar for Christmas! She was even given a plate of roast chicken as a treat and a thank you for her efforts. Now, that's the Model's Direct treatment!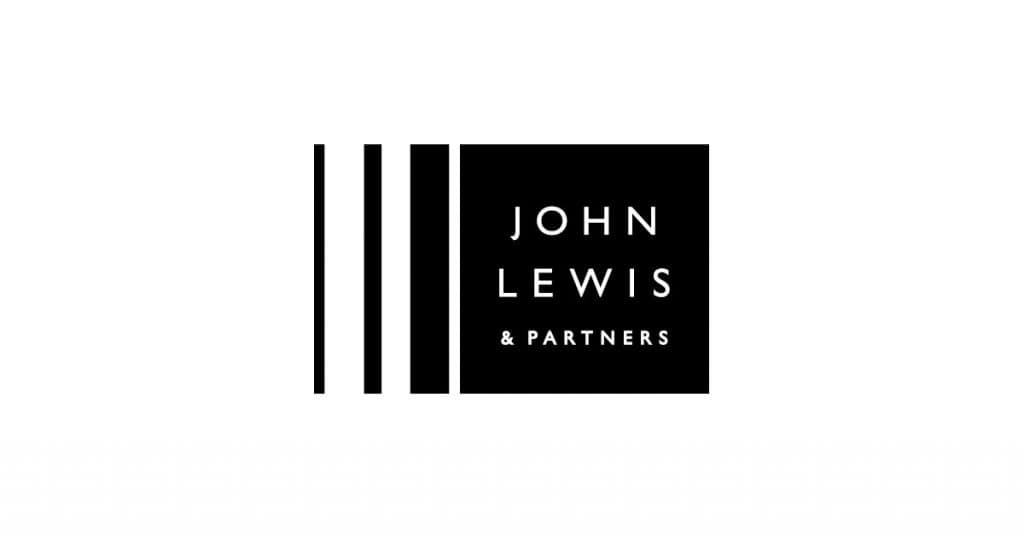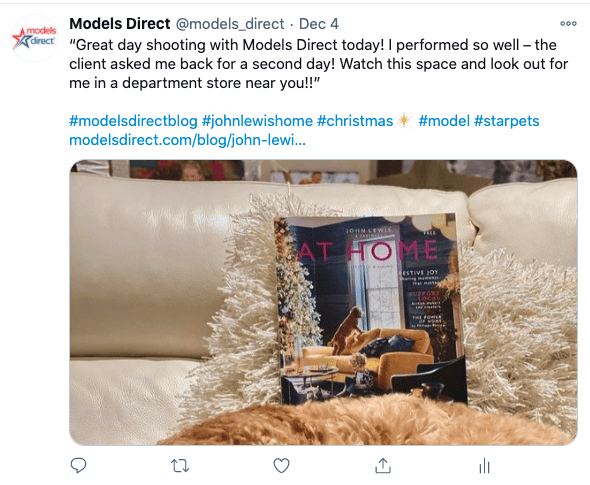 Eleven of our models got stuck into something more satisfying than the average pastry product when they modelled for legendary bakers Holland's Pies. Our go-getting bunch consisted of two families and four individuals, proving that group bookings for larger clients are very much sought-after. Additionally, it was a great way to illustrate how modelling work can be achievable even during COVID restrictions.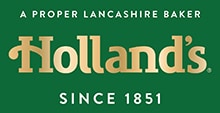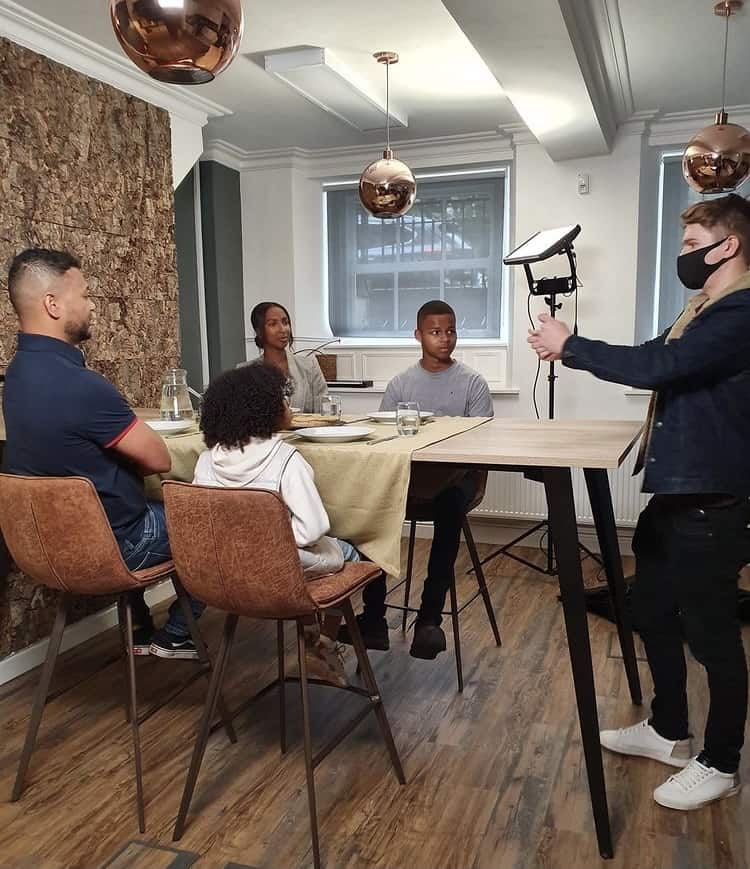 "Recently, I completed an assignment through Models Direct creating a campaign for Holland Pies. I can honestly say, I thoroughly enjoyed every second of it! From the minute I stepped through the door, everyone was so welcoming and upbeat. The day went so fast and was so well planned by everyone involved. Amazing company and can't wait to work with them in the future. Thankyou MD" – Jack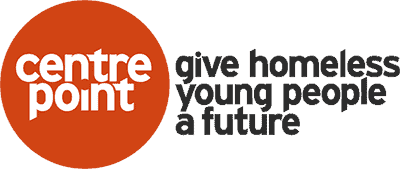 Our two models Jonathan and Montana brought some festive cheer to help promote the good work done by Centre Point – a charity providing accommodation to 16-24 year olds. Since 2005, Prince William has been their Patron. Montana commented:
"I had a fun time whilst shooting with Models Direct. This is due to the easy-going approach that they took. As a team, we went with the flow and every shot felt natural and the assistant also supported me and suggested different poses to try. They even provided both food and drink and made sure that I was comfortable with everything that we were doing. After shooting inside the youth hostel, the photographer suggested that we go outside and experiment with different poses around Covent Garden, which was very exciting. On the other hand, they contacted me rather late; being on the day of the shoot, leaving me having to rush to make it on time. Overall, I would say that it was a very fun experience and I did not feel judged or over pressured. I would recommend Models Direct!"
Continuing our 2020 roll call, we placed some four-legged stars with notable client Petlab Co. Their owners, suitably pleased with the outcome, beamed, "It was a great experience with Models Direct! This was the first time our little puppies stood in front of a professional camera and they really enjoyed the "work". The surprise party was fun as well, so thank you for providing us with this opportunity."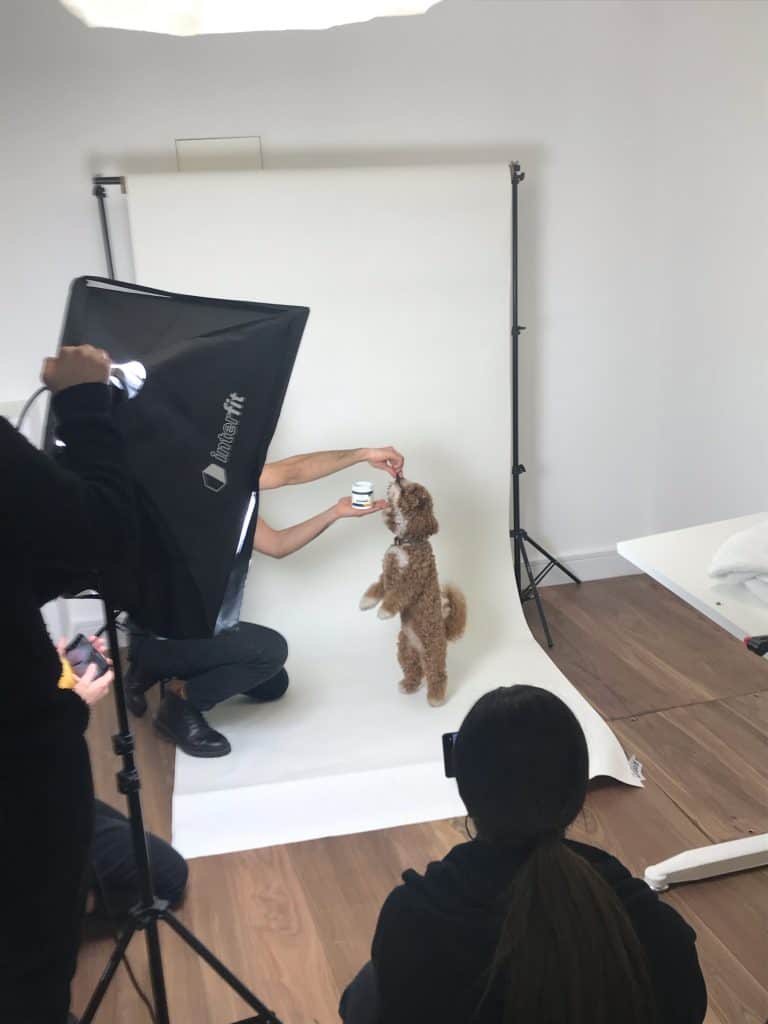 Finally, we couldn't leave out a cute bunny we provided for Coco & Eve's Easter giveaway promotion! Animals (and humans) don't have to have that "ahhh!" factor, but it sometimes helps!
Other 2020 highlights included a social campaign for Sky Sports to encourage customers safely returning to pubs during the pandemic, a group of models appearing in a social media advert for Barclays Bank, and a COVID safety video for Transport for London.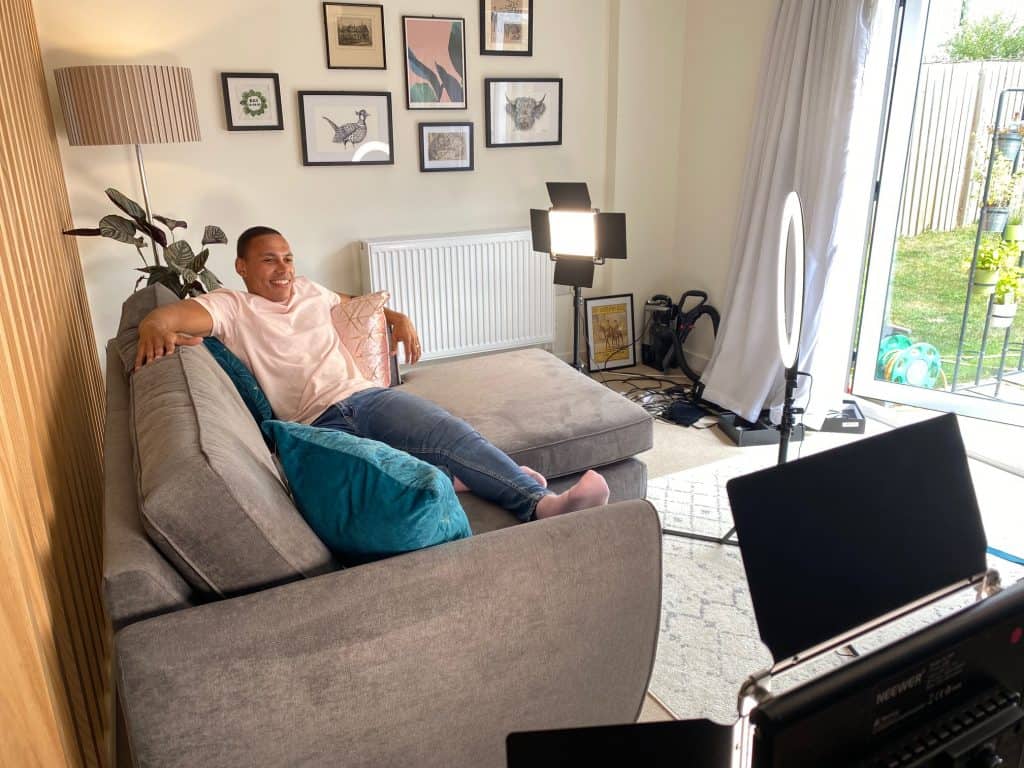 "Models Direct is a great agency. They constantly find me new jobs. Friendly staff always ready to guide you and willing to help." – Santiago
Please have a look at our models reviews to give you more of an idea at how well they have got on during the year.
We'd like to offer a huge "well done" to our team, our models and our clients – without a team effort assignments wouldn't run as smoothly. Here's to a happier – and just as successful – 2021. Cheers!