Images appear infront of us all the time, on social media, commercials and in magazines, each image attempting to catch our eye and prompt us to buy, it's clever stuff, but who is behind these creative images and how are they produced?
Photo-shoots consist of a creative team, the size and experience of the team can vary depending on budget, location, brand, etc. Larger budgets will afford a stylist, make-up artist, hair stylist and assistants, however this is not always the case! We do know it will always include a model and a photographer.
A photographer's role is complex, often they are the glue that keeps the creative team together and more often than not the person who leads the shoot. Being a successful photographer is of course about technical ability, but more importantly being able to make a model feel comfortable infront of the camera and in your company by giving them the encouragement they need to believe in themselves – if you master this you will be a busy photographer!
Making a name for yourself as a photographer is not easy, it's competitive and to get bookings you need to stand out.
Here are some tips to make the best name for yourself as a professional photographer and how to work with models and get the best from them:
Shoot Preparation
Make sure your kit is complete – Shoot days can be stressful, with lots going on, locations to find, new people to meet, schedules to keep to along with many other factors, so it's important to make sure your kit is complete, clean and batteries charged. A day or two before the shoot do a kit check, you may not have put it away properly from your last shoot, so make sure you have the lens's you need, your camera batteries are charged, you have enough memory cards and any backup equipment you may need. You can't predict technical issues, but you can prepare for them, so having all the right equipment gives you peace of mind and allows you to simply focus creating incredible images.
Locations – Whatever type of shoot you are doing there will be shoot locations involved. It may just be one, but make sure you know where it is and how you can access it. If you have numerous locations for one shoot it's a good idea to scout them out prior to the shoot so you are familiar to them and know what you're going to be working with.
Timings – It's a cliche, but time is money and your time is valuable! However you have quoted for this job it will come down to time and the client will still be expecting amazing images within the time frame you have set, so be aware of it and stay focused. You may only have your creative team for a certain time frame, be sure to know the schedule of the day and find ways to make sure you can get the shots you want with in it.
Vision – To ensure you or your client will get the images they want you need to have fully understood their vision. Whether you are photographing a product, model or scene, sometimes all three, by asking the right questions beforehand, researching your client and talking with your client you will both be on the same wavelength, which is essential to guarantee your client is satisfied with the final images.
Shoot Day
Models – Sourcing the right model for the shoot is very important. The Models Direct booking team spend lots of time speaking with photographers to fully understand what they are looking for to ensure they source the ideal model(s) for the right price too.
Click here to speak to one of our helpful booking agents
Model Experience – This will depend on your budget really as more experienced models requests higher model fees, however you may not need a model with lots of experience, it all depends on the nature of the shoot and the shoot budget, something your booking agent will discuss with you. Some models work well with little direction and others need more specific directions, either way a good photographer will be able to click with the model quickly and make be able to make them feel relaxed and comfortable infront of the camera.
Remain Professional at all times – As a photographer you may be required to work closely with a model, you may have given direction to a model but adjustments still need to be made to get the best image. It helps to have a stylist with you or even an assistant who can make adjustments to the models clothes, hair or make up, but be sure to have permission from the model before doing this.
Happy Model – Modelling is tiring and shoots can be long and not always comfortable for the model, make sure your model is well looked after and is as comfortable and happy as they can be. Offer regular breaks and by make sure there are refreshments on set for them, this will help the model keep their energy levels up and stay focused. If you are shooting outside make sure the model isn't too hot or too cold, you may need to make sure you have an extra coat to hand or even a fan if it's a particularly hot environment. Try and meet your models demands, you want to get the best from them and to do this they need to feel at their best, so be patient, professional and listen to them, it's important to keep them on side and work as a team to create the stunning, eye-catching images you envisaged.
The Models Direct website has a clear query request form for you to complete when looking to book models, by submitting this a member of the team will be in contact straight away to discuss your requirements in more detail: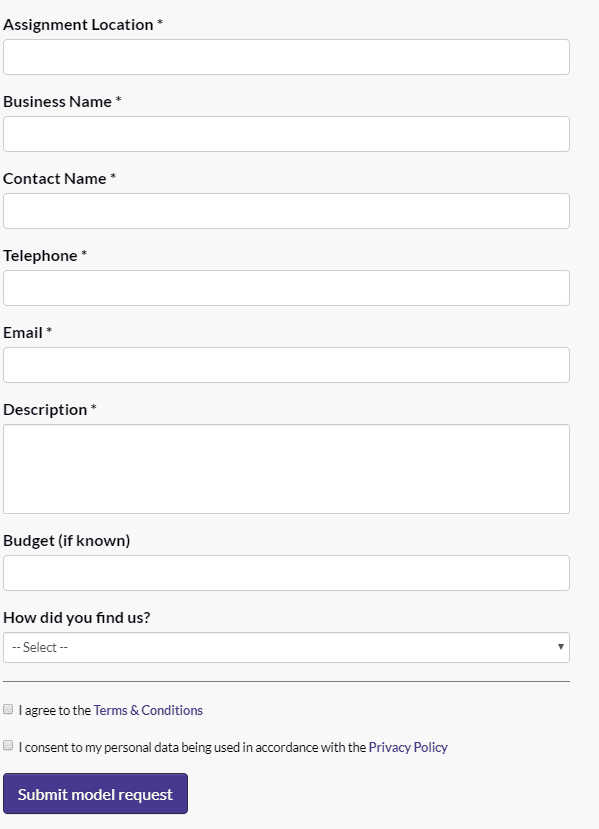 Have Fun!
It's important to have fun while shooting, by creating a positive, upbeat and fun environment will benefit you, your model and therefore the images! A photographer who is confident, capable and relaxed will instantly make a model feel at ease and you are then set for a very successful shoot!