Summer has arrived and with a bit of luck we should have some glorious warm weather stretching ahead of us. We want our models to feel as healthy as possible and feeling healthy helps us look great!
So, what are our Top 5 best foods to eat when the weather is hot?
1. Try to incorporate hydrating foods into your diet during the summer months. We all know how important it is to drink when the weather is warm and eating hydrating foods can help. Cucumber is great because it contains so much water. Try adding it to your sandwiches and salads and have a go at making different dishes with it, such as tzatziki or even cucumber soup – or just slice a wedge up and nibble on throughout the day. Watermelon is also great for hydrating and for giving you vitamins A, B6 and C, as well as lycopene, an antioxidant that might help prevent or slow damage to the cells.
2. One or two oranges a day can be a great addition to the summer diet. They are really easy to pop in your bag and to eat if you make a small hole in the top and suck out all the juice before opening them up. If you are at home and can manage the stickiness, then slice them up and pop them in your glass every time you have some water. It makes for a nice sweet treat at the end of your drink. Most of us know that oranges are also rich in vitamin C, which has a range of health benefits, including protecting the immune system. They also have potassium in them which may help ward off cramp, which can occur when you lose salt through sweating.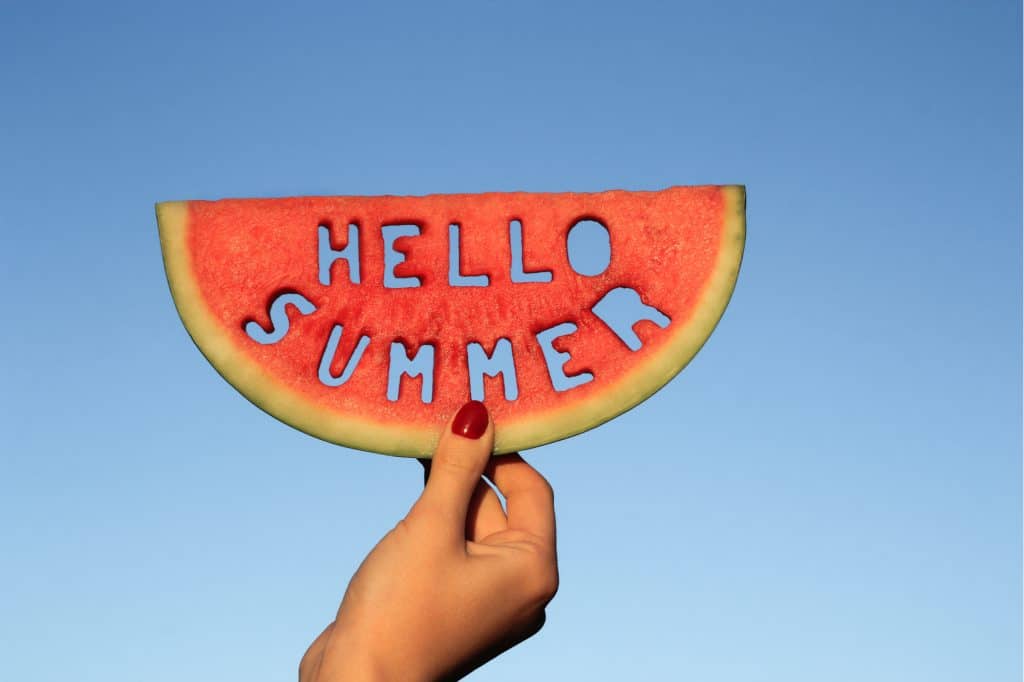 3. Summer fruit: strawberries, raspberries and blueberries are among the fabulous summer fruit options that bring enormous health benefits – but again don't overdo it or you might upset your stomach. Try putting a handful of berries on your morning cereal or in a bowl of natural yoghurt – or make a delicious, cool smoothie to take with you when you go out or to enjoy at home. Among the many benefits of eating summer berries are the fact they are anti-oxidant rich and contain vitamin C and fibre. Raspberries are also a great source of vitamin K, which helps build strong bones and assists in blood clotting.
4. Fresh fish can be a superb addition to any summer diet and is often available in abundance when we head off on our holidays to sunnier climes. It is a great addition to a summer salad when we don't feel like eating a heavy meal during warm weather or can be accompanied by delicious summer new potatoes and fresh, leafy greens. Try salmon, mackerel and sardines for protein and omega-3 fatty acids that can help with blood pressure, inflammation and long-term health issues such as heart disease. Mussels, oysters, squid and crab can also be good sources of omega-3.
5. Salads are the perfect summer food as they can be the ideal light option for a hot day as they contain lots of hydrating vegetables such as cucumber, radish, lettuce and tomato. Try to make a rainbow salad that incorporates a spectrum of colours. That way you can be sure you are giving your body a good range of nutrients. Make sure you add some protein too – try fish, chicken or boiled egg, or for vegans, a handful of nuts or some tofu. Include leafy greens for their vitamins A, C and beta-carotene, which bring a range of health benefits, including ensuring healthy organs. Try to include some spinach, kale and romaine leaves, which are among the most nutritious. Salads are also rich in fibre, which can help aid our digestion in the summer months when we may not always drink as much as we should. They can help us feel light and energised, when a heavier meal may well bring lethargy and fatigue when the weather is hot. For those trying to lose weight healthily, salads can be a low calorie yet nutrient rich option but do make sure your salad is well balanced and part of a daily diet that offers you all the energy you need. And, finally, salads can be fun – experiment with different ingredients: include some fruit if you wish and take satisfaction in sitting down to a glorious plate of colour that really does bring you some summer joy!
Find more great seasonal advice and tips from Models Direct.