"I have been working with Models Direct for over four years and each assignment has proved to be a really enjoyable experience, just try it and find out for yourself!" – Herb
Male Model Herb has successfully been selected for numerous assignments with Models Direct ranging from an extra for a Nokia commercial to a photographic nursing home shoot! He's travelled the UK with his modelling work and earnt a nice income along the way – check out what Herb has to say about his time with Models Direct so far…..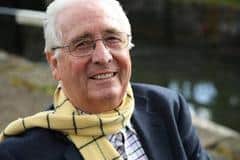 "It is getting more and more difficult to find superlatives for each assignment I receive from Models Direct. The latest a journey to the East Midlands to take part in a brochure photo shoot for a retirement home. My fellow models were Emma, we had worked together on other projects and Kristina who I worked alongside for the first time. The shoot was to highlight the activities available for residents. These were various but two stand out – one was planting up a garden plot with flowers, Emma and I working together, and the second where the delightful Kristina introduced me to the intricate game of chess.  We were very lucky as the weather was sunny, if not very warm and the shoot very well organised. Now retired from full time business, I have been working with Models Direct for over four years and each assignment has proved to be a really enjoyable experience, just try it and find out for yourself. As ever thank you Molly for finding me the job." –  Herb
"Working with Models Direct certainly helps you see the UK, north south east and west and on this occasion the north, a trip to Castleford in Yorkshire. Until then all I knew about Castleford was they have a Rugby League Football club but I had no idea of the warm welcome I would receive when I arrived at Overview Studios for a photo shoot for Symphony Kitchens. The success of any shoot depends on everyone working together and on this occasion it certainly was the case and it made for a very enjoyable day in Castleford. It was a "family " shoot and my fellow models were Patricia who I have had pleasure of working with on other occasions and a real life family unit of Garry, Jessica and their three year old son Maxie who is a star in the making, together with the Production Crew, Leanne, Nina, Josie, Toby, Chris and Johnny, all the shooting was done against a green screen and then the CGI background inserted another first for me and what we saw looked great. So, thanks to all my new friends in Castleford and thanks to Molly who put me up for the job." – Herb
"What an enjoyable day! One of the most interesting things about working with Models Direct is the diversity of locations. As I was travelling back from my latest assignment I started to think about the locations where I have worked.
Holiday Parks, Arboretum, Hospital, Posh country houses, Retirement
Villages, Care homes, Bed manufacturer, Furniture Manufacturer among
others, but today was something different, Reading Railway station, they say
variety is the spice of life in which case my working life with Models Direct is
pretty spicy." – Herb
"This assignment was very different to any of the above, one of thirteen, all of
whom were a pleasure to work with, we spent a very interesting day on a
video shoot up and down the escalators, singly or varying group sizes, in
alternate wardrobe, you could think it could have been boring but it certainly
wasn't primarily due to the great companionship of crew and talent, great
day all around.
Once again thanks Molly for giving me the chance of enjoying my working
day so much." – Herb
"Well, well, I have been working with Models Direct for four years and been to many locations but this was very different, a Casino, and it was very interesting.
Unlike most shoots where you may work alone or with another two or three colleagues, today there were fifteen and it was pleasure meeting and making new friends, although I didn't get to meet everyone. The ambience of the Casino was quite different to other locations and in a strange way both exciting and interesting, for one reason it was open and working. The shoot itself was again different to any other I have done, but that is what makes working for Models Direct such a pleasure, you don't know what it is going to be but you do know you will enjoy it and get paid for enjoying yourself.  Once again thanks Molly, more please." – Herb
If you are interested in being represented by Models Direct click here