At Models Direct, we represent some of the UK's brightest baby stars. However, we're always scouting for fresh new faces and talent. What's more, our modelling agency keeps a strong variety of diverse talent from a wide range of cultural backgrounds too! If your baby is aged anywhere from newborn to two years of age, and you think they might have what it takes to be a star in front of a camera, then we want to hear from you…today! 
Now, everyone loves an adorable baby model, right? In fact, we'd even go so far as to say that everyone adores babies because let's face it – they're all just SO adorable! There's no denying it. It's also why your bambino may have an excellent opportunity to break into the world of baby modelling. Let's find out more here:
Why the world needs little models
If you're a parent or guardian, you'll already know the endless list of baby products and services that are out there on the market. And quite often, the most effective way to sell those baby products is to have images or an advert of a cute baby with that very product. The baby industry is ginormous (we kid you not) and that's where you and your aspiring baby model come in.
Who do we work with?
Everyone! From local fashion retailers to large production houses to photographers, we work with a plethora of people. Tesco, Mamas and Papas and Pampers are just a snippet of some of the big baby brands we have worked with who have come to us requesting our super cute models. We put our baby models forward for any suitable baby modelling jobs that come to Models Direct and make sure that our clients know that we have a new baby on the books. Every client that approaches us in their search for a baby will know about new models just as much as existing ones.
Baby modelling is a fabulous chance to get involved in the modelling industry and who knows where it may take your tiny tot. Our agency wants all the babies on our books to have their chance to dazzle and shine, and if that means working twice as hard to make it happen, then that's what we'll do! We go the extra mile and that's what's helped us stay at the top in the UK. 
A recent photoshoot with Infant Innovations:
We recently had a wonderful baby assignment during this lockdown where our gorgeous little star, Lincoln (who is 5 months old) did a photoshoot for Infant Innovations. Since modelling is a paid career, it has been given the green light to go ahead despite the lockdowns we've had to deal with. The photographer and crew on set all adhered to social distancing and Covid regulations – the day went quite brilliantly! Lincoln's mum dropped us some feedback right here:
"Really easy process from signing up to my 5-month-old son getting his first job. We had a great day. All well organised and Covid safe." – Lincoln's mum. 
Lincoln loved seeing the bubbles float about whilst lying on Infant Innovations' product. Check out the lovable snaps here: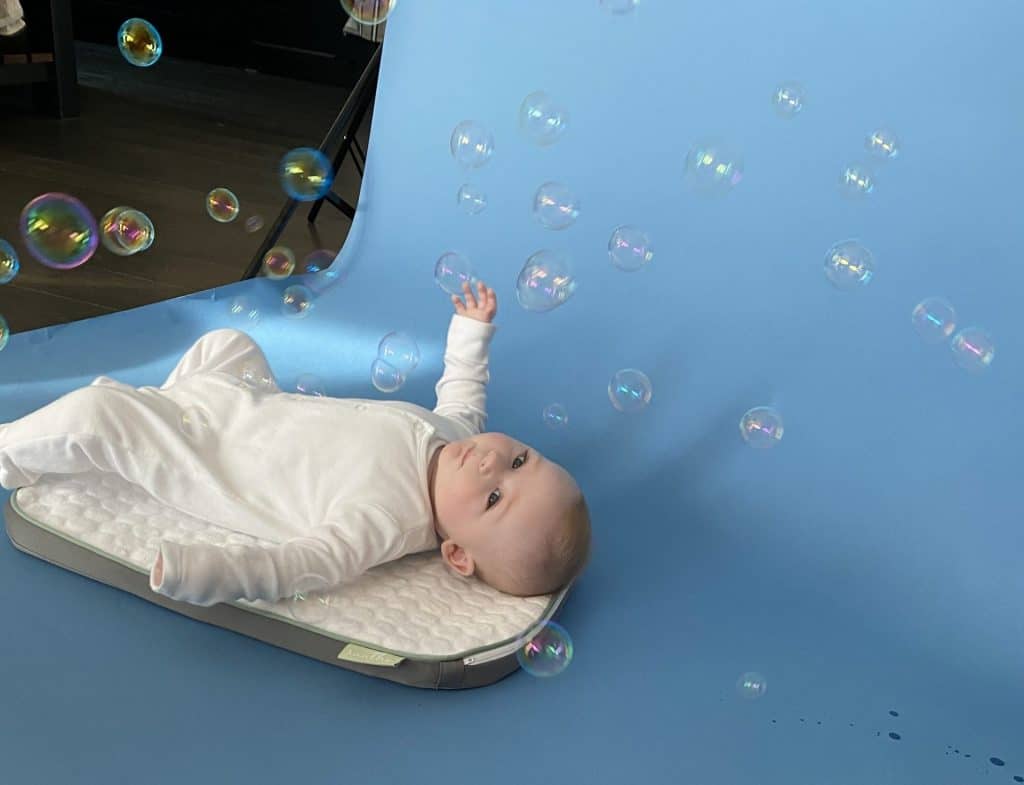 You can view the final images on their new website right here!
Got some questions, parents?
Of course you do! For anything related to the application process, assignments and campaigns, we've got it all covered. Get in touch with our professional savvy modelling team who know everything there is to know about the baby modelling world. Or head over to our Facebook, Instagram or read what our models have to say about us!