Chinese New Year is just round the corner and so the Models Direct team were delighted that our junior model Melissa was selected for this exciting assignment….
Melissa and her family spent the day in London working with a professional production team  starring in a commercial campaign celebrating Chinese New Year.
It was particularly exciting as this was Melissa's first assignment with Models Direct, huge well done to Melissa!
Marie at Models Direct was coordinating the booking and so worked closely with the client and Melissa's mum to ensure everyone was up to date, had all the relevant details and was happy.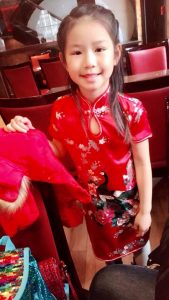 Melissa's Mum's Feedback:
"Melissa had a fantastic day in London, shooting for 2018 Chinese New Year and China town! Everything was very organised and well planned! Thanks Marie from @modelsdirect"
The commercial will be shown on Chinese New Year on the screens in Trafalgar Square and also used on Chinatown's social channels.
Melissa spent the day in London with her family for this assignment and along with her payment all her travel expense were also covered – what a great day!!