#Starpets
Fireworks night is super exciting and the Models Direct team have had lots of fun over the weekend at firework displays, warming up by the bonfire and of course maybe toasting the odd marshmallow – however as an office of animal lovers we haven't forgotten to keep our beloved pets safe!
Models Direct represent a large variety of pets on our books from dogs through to more unusual creatures like snakes and lizards, so the team here are very used to talking to pet owners about their special pets, their characters and what they like doing.
Client: The Walt Disney Company
"This was Oscar's first assignment and we were not sure how he would react but he is a very friendly and confident kitten as was immediately at home on set with The Walt Disney Company! The film crew were patient with him and he seemed to really enjoy all of the fuss. He gave a great performance and everyone was happy. The information from Models Direct was clear and we knew exactly where to go etc."
Oscar, Model fee: £270
Pets are a very important part of the family and so it is essential to keep them safe this time of year and avoid any unnecessary stress they might get from all the loud noises, lights and general excitement of firework night!
The team at Models Direct thought it would be useful to put together some helpful hints and tips for you to help keep your pets safe! The below advice is from RSPCA.org.uk.
How to calm dogs during fireworks
Walk them during daylight hours to avoid times when fireworks are likely to be set off
Close windows and curtains to muffle the sound of fireworks
Put on some music or tv to mask the firework sounds
Create a quiet space where your dog can feel in control
Create some hiding places around your home
Watch our top tips on keeping your pets safe and happy this fireworks season in our short three minute video. The video even includes how to build a 'Doggy Safe Den' !
The above link is from www.RSPCA.org.uk
 Cats
Provide hiding places in your home
Cats can become more stressed if they're outside during fireworks
Microchip your cats in case they're startled and escape outside
Small animals
Partly cover outside cages and pens with blankets so an area is soundproofed and hidden, but allow another area for the animals to look out
Provide bedding small animals can burrow in
Consider bringing them indoors – this will need to be done gradually so plan ahead
Client: Kardean Flooring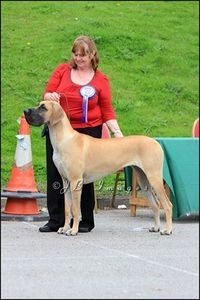 "Everybody at Karndean Flooring was most welcoming and made both Fleur (my Great Dane) and I feel at home. We had to complete 3 different shots – two stills and one video. The crews were very patient and explained exactly what they wanted so I was able to direct Fleur accordingly. Fleur and I would definitely like do similar work in the future. The whole day was worthwhile and the venue was very suitable for animals as there was plenty of space for exercising them between shots. My advice to other aspiring pet models and owners? Relax and give it a go!"
Fleur, Model fee: £120
If you are interested in getting your pet involved in modelling please follow this link Starpets