Modelling as a family can be lots of fun!  It may not be something you or your family have ever thought about, but the Models Direct team often get requests for 'REAL' families….
"We would definitely recommend it to other  
families

 – a great fun experience and you get paid, win, win!" – The Burton Family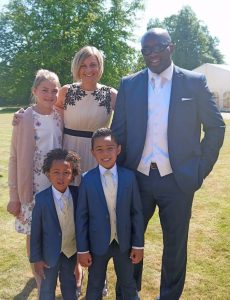 Our lovely  model family 'The Burton's'  are based in Milton Keynes  and with 3 children and lots of energy they are always  super keen to be selected and to be involved with any modelling work.
Models Direct put them forward for a campaign with the NSPCC which they were successfully selected for and more recently  The Burton family  were chosen to feature in a promotional video for a local Estate Agency company in Milton Keynes – the opportunities are endless!
The money can be great when modelling as a family  too! As a parent you would always have to chaperone your child to a modelling assignment, so it's a bonus if you are working  on the same job together, instead of sitting and watching!
Below is what the Burton family had to say about their assignment with NSPCC:
"Hello from the Burton family. We've just been to Slough to do a photoshoot for the NSPCC for the 'Messathone'. As you can see, we're all pretty tired, pretty dirty, ready for bed now but had an absolutely brilliant day. Thank you to Models Direct for putting us forward for the job, it's been absolutely brilliant. Kids have loved it and we're looking forward to doing another assignment soon. Thank you. Bye."
Hear more about how the Burton family got on at their second assignment for Models Direct:
"It was brilliant fun, the whole  family  was involved for this assignment which made it even more exciting!  We would definitely love to do it all again.
The assignment involved being filmed and photographed pretending we are getting the keys to our new home and then celebrating our new home with champagne on the balcony. The cameraman was great, giving us simple instructions and increasing our confidence.  The most fun part of the assignment was watching my children have a great time with beaming smiles.
We would definitely recommend it to other  families – a great fun experience and you get paid, win, win!
I haven't been great at keeping the boys profiles updated but this has spurred me on to update them so they can get more work.  I signed the boys up to Models Direct as I thought they would love the experience and I was right, getting paid for it is a bonus."