Images by www.timmarsden.com.au
Noah is an extraordinary little boy with an incredible story, born with the condition Spina Bifida and only 2% of his brain a condition called Hydrocephalus, he has surpassed all expectations and continues to develop into a very special person.
Models Direct Modelling Agency were delighted to receive a modelling application for Noah back in 2016 and welcomed him onto their books – Noah and his family are now celebrating a lifetimes contract with the agency!
Noah's story is nothing but inspirational, to be faced with so many daily challenges for him and is family, however when speaking with Michelle (Noah's mum) you get a sense of her energy, determination and total commitment to overcome and make the best of all opportunities that come their way.
The Models Direct team were delighted to see Noah appear on Good Morning Britain last week to talk about his incredibly brave appearance at the Royal Albert Hall in London. Noah took to the stage as part of the grand finale of a very special concert organised by The Music Man Project – the UK's only full-time specialist music education service for children and adults with a learning disability.
What an achievement!!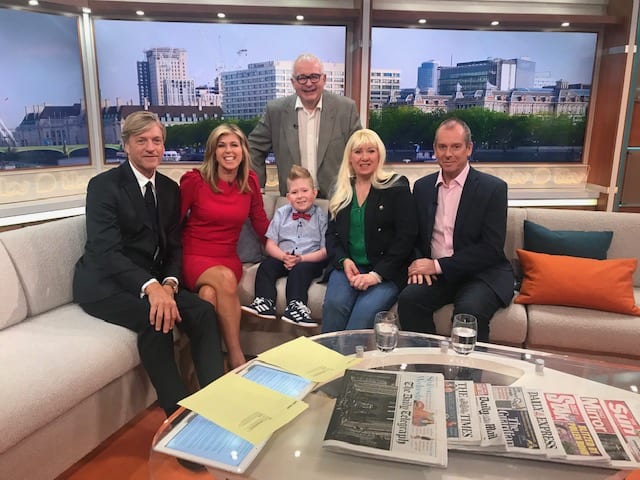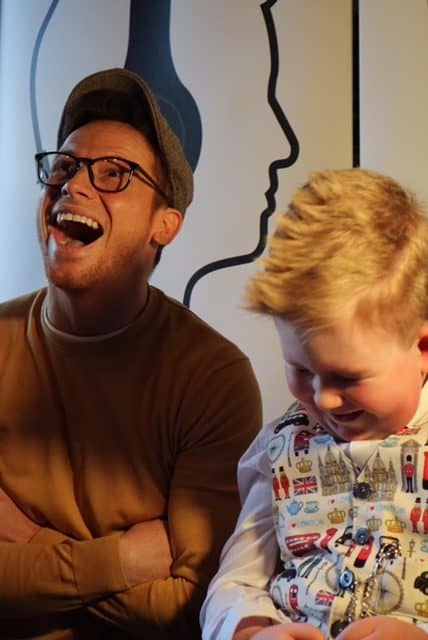 Noah is an ambassador for the Music Man Project along with a few other charities, however his recent performance at the Royal Albert hall with them was quite an extraordinary moment.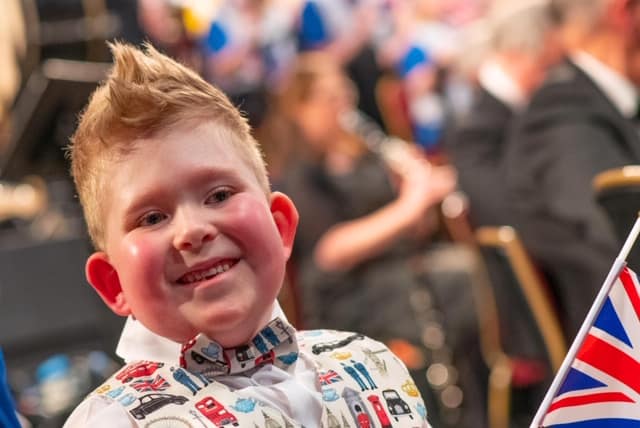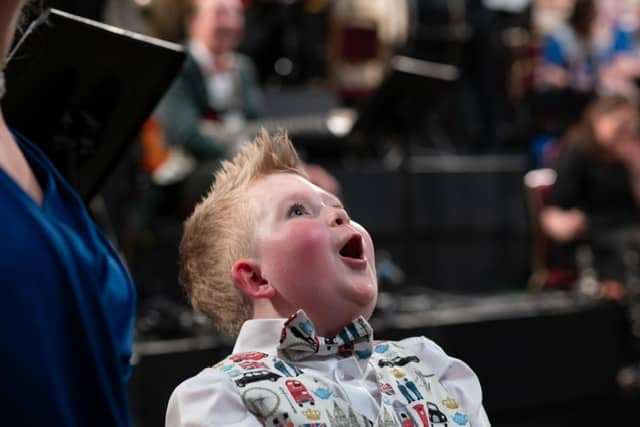 Noah's first assignment with Models Direct:
It doesn't get much better than staring in the Christmas commercial for one of the UK's largest supermarkets, but that's just what Noah did – securing his first major modelling assignment with Sainsbury's!
Molly, Modelling Assignments Manager at Models Direct confirmed shoot details and Noah and his family were set to travel to London for an incredible experience filming with a professional film crew. The Models Direct team organised the transport, accommodation and all logistics to ensure Noah and his family were looked after from beginning to end and could enjoy the whole experience.
On the day Noah would be posing as the youngest child of a family and would be lifted from his wheelchair by his model 'dad' and be placing a star on top of the Christmas tree. As the first disabled child to appear in a Christmas Commercial, this was very exciting for everyone. Noah secured this assignment by submitting a specific action casting video to the production team, through Models Direct.
Noah's mum Shelley gives her feedback on their experience:
"Noah had lots of fun filming for the Sainsbury's Christmas advert. We were made to feel really special. Being on set was the most exciting part of the shoot. Watching Noah's face light up when the cameras started rolling and when he placed the star on top of the Christmas tree really was priceless. On the second shot, the director confirmed that this was the one, which was very impressive considering Noah's disability. This was a great achievement for him. He was treated with so much respect by the crew who completely catered to all of our needs. Noah bonded with everyone on set, particularly his on screen family which included Jo Burke, Alexander Perkins and a lovely young actress who played his sister. He had so much with them.

"I would definitely recommend this kind of experience. I wish I had signed Noah up with Models Direct from Day 1! Everyone thinks their child is the most gorgeous in the world, but we were being advised us so much to join an agency that we went for it – we just wish we had done it sooner! Every child is different and has their own unique qualities – there is work for everyone out there. I would recommend all parents to sign their children up – go for it, don't even think about it – just do it! There's only you stopping yourself from reaching your goals in life."

Shelley Wall
Towards the end of last year Noah took his first international flight…to Australia! After hearing about an incredible 'brain training' treatment called Neuro Physics Therapy, Noah and his family made the around the world trip to meet with the founders Ken and Nickie Ware who agreed to meet with Noah at their clinic on the Gold Coast, Queensland.
To read more about Neuro Physics Therapy and Noah's progress – click here
Of course Noah was unable to leave Australia without hitting the waves and learning to surf!! With the incredible assistance from disabledsurfers.org Noah was able to experience being in the water and catching some waves.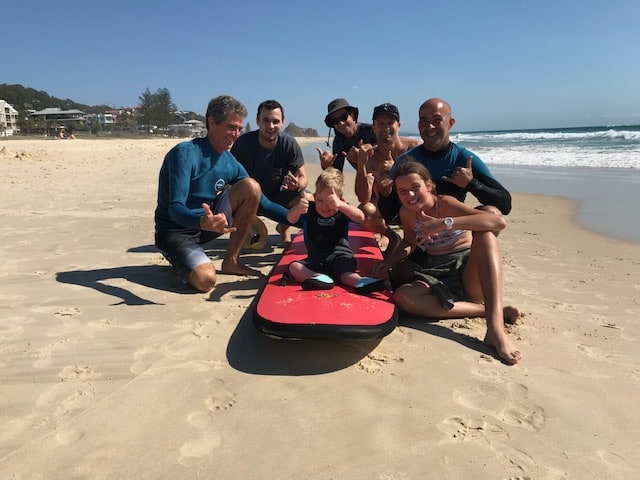 Models Direct are very proud to represent a variety of very talented disabled people and we have done for the last 30yrs! Disability has never been a focus for Models Direct, the agency considers any application in the same way, it's enthusiasm, determination and commitment that is the New Face team are looking for! Noah and his family have these qualities in the bucket load and the Models Direct team are delighted to be able to represent Noah to clients for potential modelling work for years to come!
To hear about other disabled models who have been successful in securing work with Models Direct click here
The Models Direct team are in regular contact with Noah's family and we know he will continue to wow us with his character, optimism and his determination to live a full and happy life while continually spreading joy and happiness to everyone he meets! We are super excited to see what he get's up to next!!
Image