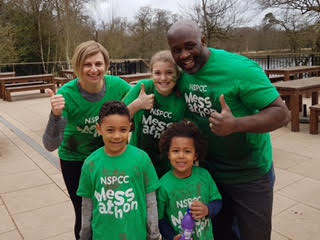 We are delighted for the Burton Family who have just successfully completed their second assignment as a family for Models Direct – Congratulations to you all!
The assignments team at Models Direct received a booking enquiry to find a  family to feature in a video shoot for a charity fundraising video for the NSPCC,  the enquiries we get vary so much,  but Molly knew who would be ideal for this particular job!
The Burton family secured the job and were fully briefed on what they needed to know, by Molly at Models Direct. The video they'd star in was for the NSPCC's 'Messathon' charity fundraising video. Various footage would be taken of them all taking part in messy, muddy, outdoor activities in a park – how easy can it be!
The dress code was comfortable, neutral clothing that they were happy to get muddy!
As you can imagine the Burton Family had a blast, were super tired, but still managed to send the Models Direct team a little video telling us all about the fun they had!